This is my wonderful Golden Retriever puppy Shea. We met Larry LeoGrande owner of K9 Obedience Training through someone who had already gone through training and was very pleased with the process. I was immediately pleased with Larry from the moment I spoke to him. We decided to do the private lessons and very quickly I knew I had made the right choice. Larry always did more than the hour with us, never rushing us out. He has unbelievable patience especially with a fun loving golden puppy. He is extremely professional but what really impressed me was the way he talked to and handled my pup. Let me just say she was in love with him and wanted to please both of us because of his instruction. Every week I saw wonderful improvement and the six weeks went by much to quickly. I would love to continue working with Larry especially now in some kind of group class.
Larry also offers people who train with him boarding services. This is my fourth golden and I have never boarded but would have no problem leaving Shea with Larry. All the boarding duties are done by him personally. It is fantastic to know that your dog will be exercised by him at least 4 times a day. The dogs that were there when I was in training with Shea always seemed content, happy and relaxed. What a wonderful peace of mind to know that your beloved pet is happy and safe while you are away.
Lastly, I would like to thank Larry for everything he has done for Shea and myself. When I have had a training question or problem he has been so helpful even having us go back for another class at no cost to me. I know I can always count on him for his help and advice.
Having an eight month old golden, I know I am going to need it.
Thanks Again Larry,
Kathy Salce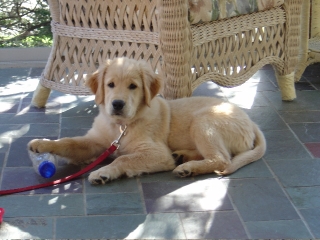 Kimberly and Michael Del Duca & Pacey
This is Pacey, our wonderful Golden Retriever. He wasn't always as sweet and innocent as he looks. Pacey began training when he was 9 weeks old. Larry LeoGrande owner of K9 Obedience Training assured us that it's never too early to begin training with a puppy. During Pacey's initial evaluation, it was evident that Larry had an extensive background in training dogs and was very knowledgeable. After observing Pacey for less than an hour, Larry was able to define Pacey's personality and how that translated to his behavioral issues. It wasn't long until we realized, that it was us that needed the training, and not so much Pacey.
Larry showed us that there are various techniques to training a dog, and because not all dogs respond the same way to training, Larry was able to customize the training according to Pacey's responses and behaviors. This made the 8 week one-on-one training very valuable.
We made several purchases from Larry including a very durable 6 foot synthetic leash, a toy for Pacey, and my personal favorite- a Pinch Collar (or as I like to call it, "The Miracle Collar). Pacey is modeling his collar in the picture. At first glance, the Pinch Collar would scare off any dog lover however; Larry explained that not only is it more humane then the common choke collar, but more effective then a choke collar or flat collar. It was worth every penny (as a disclaimer Larry may try to charge $300 for it, but with my expert bargaining skills, I was able to talk him down to a reasonable price). Larry also taught us the fundamental's of puppy care including diet, exercise, socialization, grooming and more.
Overall, I was very impressed with Larry's knowledge, professionalism, and love for dogs. Without hesitation, I have recommended him to several people already.
Thank You Larry!
Kimberly and Michael Del Duca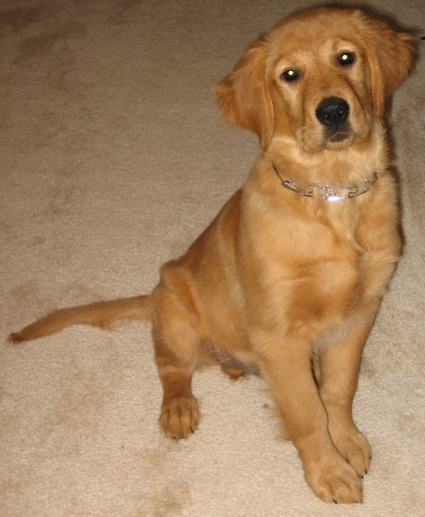 Joe and Kimberly Bice & Hannah
When we decided to get a German Shepherd puppy our first concern was training. We were impressed from our first meeting with Larry LeoGrande owner of K9 Obedience Training of the knowledge he possesses regarding dogs. He provided our dog, Hannah with personal attention, and made himself readily available if we had any questions or concerns. Hannah has become a treasured part of our family, and we owe Larry a huge thank you. Additionally, whenever we need to board Hannah there is only one place we trust, and that is K9 Obedience. We know that Hannah will be cared for in the best possible way, which gives us peace of mind! We recommend K9 Obedience Training for all your dogs training & boarding needs.
Sincerely,
Joe & Kimberly Bice
Lacona, NY
We can't thank Larry LeoGrande owner of K9 Obedience Training enough! He has done wonders with training our dog Molly. Molly is a special beagle dog. When we first picked her out of the litter, we fell in love with her. Little did we know that she was deaf! After a couple of months with her, we were suspicious that she couldn't hear us. Testing at Cornell University confirmed our suspicions. She was deaf in both ears. No matter how hard we tried to train her, it was literally impossible. We found books on training deaf dogs which were informative but not that helpful. That's when we decided to find ourselves a trainer. Our vet gave us a listing of trainers in our area. We called quite a few, leaving messages with all of them, explicitly explaining that we had a deaf dog that desperately needed training. Not one of the eight had the courtesy of returning our phone call…..except Larry. He was right up front and said that he never worked with a deaf dog before but certainly was willing. He impressed us right off the bat because he had the decency to return our phone call and you could tell that he genuinely cared about Molly. He was willing to accept the challenge of training a deaf dog.
On our first day of our lesson, he again was up front about not knowing how to train a deaf dog and gave us the option of backing out right up to the minute before our hour was up if we didn't feel that he could help her and would gladly refund our money. We knew that we had no other choice. We must give it a try. We really needed help.
To our amazement, Molly is highly trainable. With Larry's patience, kindness and guidance, he was able to bring the best out of Molly. We didn't really think that she had the ability to learn because of her deafness. We were so wrong! The next eight weeks flew by. Each week Molly was taught a few commands with sign language that we made up as we went along, and Molly caught on very quickly. All we ever really wanted was to teach her the very basics. She was a huge success. Not only did Larry work with Molly, he also worked with us. As new dog owners, we really didn't know how to approach training a dog, especially a deaf one. With his advice each week, patience with Molly and with us, Molly has grown into a very happy puppy. We didn't expect much going into the program when we started, but at the end, we were extremely pleased at the outcome. Molly may have been born deaf, but she still is a normal and loving puppy. She will always have to be on a leash and will never have the freedom of running through a park without a leash, but we do know that she is trainable and still can still be a loving pet even if she is deaf.
In closing, Larry LeoGrande's program was the best gift we could've given Molly and to us. We eagerly await our next step, group training!!! We know Molly will love to be able to be around other dogs and we are excited about working with Larry again. He is very knowledgeable and we highly recommend him without reservation.
Dan, Diane and Molly Robertello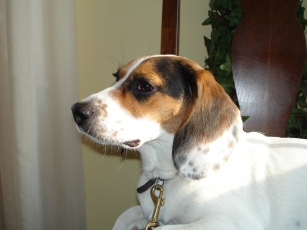 Olivia Nole-Malpezzi & Mocha
My name is Olivia and I am twelve years old and after much persuasion I was able to pick out a dog from a local Humane Society. Our dog Mocha was a lost and confused pound puppy from Steven Swans Humane Society. After many weeks of training at other centers, he still was a lost and confused pound puppy…Until, we were referred to Larry LeoGrande owner of K9 Obedience Training.
Since Mocha was my dog, my mom and Larry both wanted me to train him myself. Larry, assured me of the dedication I would have to put into training Mocha, but I knew that it would be worth it. The first few lessons were pretty much a struggle between me and Mocha over dominance but Larry helped me and explained to me what had to be done to get control over our dog. He was very gentle yet firm with Mocha, and right away Mocha knew his place.
As a kid, most would think I would have hated going to train my dog, and let me tell you I had many scratches and marks to show. But, it was really fun working with Larry and Mocha. And, I looked forward to going every week. Not only did Larry give us the proper techniques to train our dog, but he gave us the proper materials too. After our training sessions were finally over, Mocha had seemed to finally calm down, and had actually become quite attached to Larry.
There were no more struggles between me and Mocha. And he now gets along with all dogs and people, without jumping on them to meet them. I highly recommend Larry, he has really made our life more enjoyable, and Mocha, who seemed hopeless, is a very big part of the family. Larry also has a great boarding service, which we have used on several occasions. Larry is a great and talented person when it comes to dogs, he has a great amount of knowledge and experience, and I'm sure he will really benefit you and your dog. I know he has for us.
Olivia Nole-Malpezzi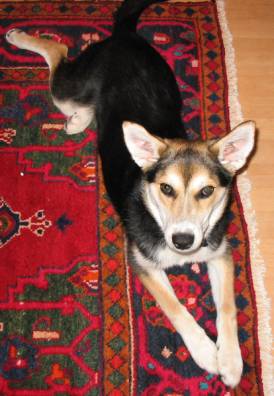 Lee and Cathy Hinkleman & Sydnie
In October, my husband and I acquired an adorable 4-month-old female Dalmatian named Sydnie. We were aware that Dalmatians have the reputation of being high strung and full of energy so it was critical she receive proper training.
We contacted Larry LeoGrande at K9 Obedience Training and was impressed that he first wanted to give a free evaluation to observe the temperament of Sydnie. Upon the evaluation, we decided to train with Larry for 6 weeks.
Larry is a true professional and exhibited lots of patience and kindness not only to our pet, but to us, who were "training" as well. The one on one instruction made it so much easier to train Sydnie since she got individualized instruction. Larry makes himself available to questions at any time not just during the 6-week period but even after you are done with the lessons.
Having a well-behaved happy pet, makes happy owners and Larry is the right guy to do the job!
Sincerely,
Lee & Cathy Hinkleman
Westmoreland, NY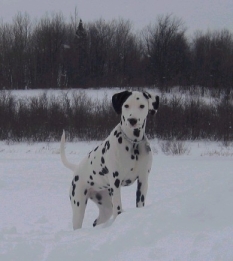 Danilo and I are first-time dog owners and we took our puppy, Mr. J. Brown, to one-on-one puppy training with Larry LeoGrande owner of K9 Obedience Training. Larry was very patient with Danilo and I and explained all the techniques very clearly. We needed training more than J did. It was very evident after a few sessions how effective the training was in J's behavior. Now he is a well behaved puppy and we feel as though we can take him anywhere with us and he will
listen. What impressed us most is Larry's in-exhaustive knowledge and boundless love for dogs. He is extremely professional and helpful. Danilo and I are college students and Larry was very understanding of our unique situation. We both enjoyed working with Larry a great deal and J loves him. The two hour commute each time was well worth the results we've seen with J and the wonderful experience we had with Larry.
Danilo Cortes and Emily Renda
Hamilton, NY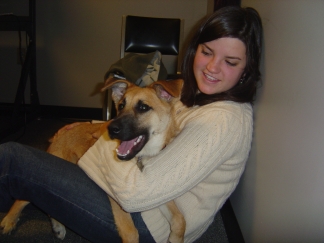 My wife and I wish to extend our gratitude to Larry LeoGrande owner/operator of K9 Obedience Training for the dedication and effort he has displayed in training our Golden Retriever Shamrock. We found his rates to be extremely reasonable and his experience to be truly impressive.
His multiple years of training and experience are clearly evident to anyone who sees how well he interacts with each dog he comes in contact with, regardless of the dog's breed. Noticeable after just one session, is the fact that this trainer truly loves what he is doing and that, I'm sure, is a major contributing factor to his success as a trainer. Also notable, is the fact that his knowledge is not limited to one particular breed either. He is knowledgeable not only in canine behavioral traits and characteristics, but breed characteristics, temperaments, breed standards and various training styles, methods and techniques as well.
One of the things we were most impressed with was his commitment to us as the owners, as opposed to solely focusing on the dog. Rather than him simply training the dog for us, he was committed to ensuring that we were confident in the methods and techniques to use, so that we were capable of training the dog between sessions. In doing this, he showed a great deal of patience and devotion, allowing us as much time and attention as was necessary for us to understand and successfully execute each method and technique (even if this required more time than that which was allotted for each session).
We have heard of other trainers in the area and of the training sessions you may enroll in at the local "big box" pet stores. However, we would not trade the experience we have gained, or the success we have enjoyed as a result of the methods learned at K9 for any price. He has given us the knowledge and confidence to make our dog Shamrock the polite, well-behaved, family dog we wanted.
Tim & Heather Bonney
Utica, NY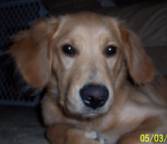 Chris Semchuk, Kim Currie,
Speedy & Napoleon
Dear Larry:
Kim and I would like to thank you very much for the outstanding job, in training both Speedy and Napoleon. It was very important to us, owning two very energetic and intelligent dogs, to have them very obedient and socialized. The techniques you used, and taught us to use were most valuable.
As a result of the lessons with you we can take our dogs anywhere and feel confident that they will be very behaved, and respond to our commands immediately. The one on one environment you offer is extremely efficient and productive to the dogs, and our learning. We also liked how the dogs could socialize with the other dogs that were there before and after the lessons.
Thanks again, and we would recommend you as a trainer to anyone of our friends.
Sincerely,
Chris Semchuk and Kim Currie
November 1, 2005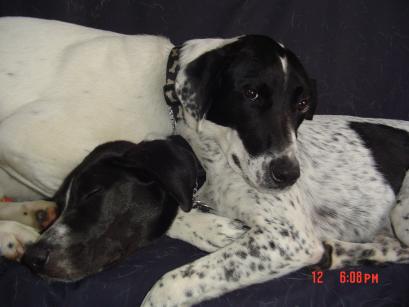 This is Tucker our Weimaraner. He and I have gone through three obedience training courses with Larry LeoGrande owner of K9 Obedience Training. We found the training extremely rewarding and most helpful in our goal of obtaining a well behaved dog. He was kind, informative, helpful, knowledgeable, professional and most of all really attuned to Tucker and his individual needs. We were very pleased with the end results and look forward to training with K9 Obedience Training again.
Rebecca Kick
Clinton, N.Y.