Owen C. Tober, Amsel Training Kennels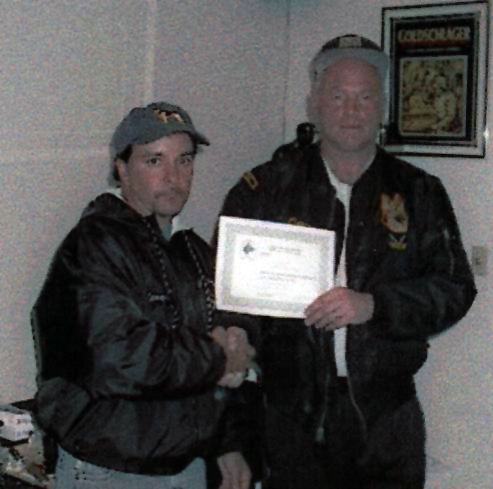 Larry LeoGrande, owner of K9 Obedience Training, receiving his Certification for Professional Dog Trainer from Owen C Tober. Owner and Director of Training at Amsel Training Kennels.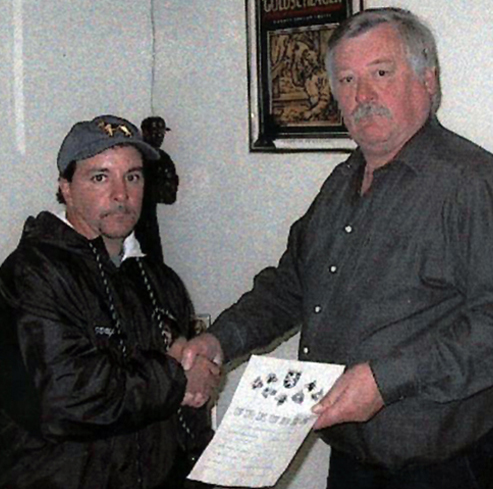 Larry LeoGrande, owner of K9 Obedience Training, completing a K9 Training Seminar with one of Germany's Top Instructors.
Before attending my training school, Larry was already a dog trainer and had his own business, K-9 Obedience Training. He attended my school, Amsel Training Kennels, to expand his expertise, knowledge and to become certified. While attending school, he lived at my facility. I got to know him both professionally and personally. I have nothing but good things to say about him. Larry is honest, sincere, hard working and a dedicated dog trainer.
While attending school, he acted as assistant instructor as well as head instructor for my Police Training School, Schutzhund training, group classes and private lessons. After going through extensive training, he was certified as a Police Dog Trainer, as well as a Professional Dog Trainer by me personally. He is completely capable of handling all dog breeds and temperaments.
To this day he continues to train with me on a regular basis.
Owen C. Tober, Amsel Training Kennels
Cara Raczka, Erie County Medical Center
I just wanted to let you know how much your Canine Demonstrations for Camp 9-1-1 were appreciated.
This Camp would not have been as successful as it was if it were not for people like you who volunteer their time for the children of Erie County. Your canine demonstrations were excellent. I would also like to thank all the people who came out to help you. I couldn't keep track of all their names, but please extend my appreciation to them.
Thanks again. I look forward to working with you next year if at all possible.
Sincerely,
Cara Raczka
Camp 911 Coordinator
Erie County Medical Center
Emergency Department
Herkimer County Humane Society
Dear Larry:
On behalf of the Board of Directors of the Herkimer Co. Humane Society I would like to thank you for giving the excellent demonstrations at the Mutt Strut on June 5, 2005. We would also like to thank your friend (I apologize for not remembering his name) who traveled so far to come and participate with you. Everyone agreed how impressed they were with the work that you do with the animals. Your dog was beautiful.
I hope all went well in Buffalo last week. The weather has been tough on our animals at the Shelter, so I will be happy to see it come to an end. Perhaps you can visit our Shelter one of these days. Please give me a call ahead and I will meet you there. In the meantime, we are recommending your training and would like to have your cards to give out.
Thank you again for all your help. We appreciated you coming very much.
Sincerely,
Dottie Gaffey
Board of Directors
Victoria M. Celia & Mishka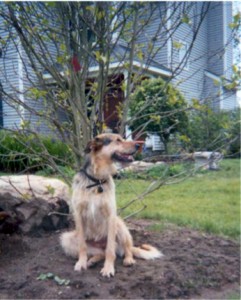 I can not thank Larry Leogrande of K-9 Obedience Training enough for the major turn-around in my dog Mishka.
For those of you reading this letter, Michska is a Shepard/Terrier mix adopted from the Herkimer Humane Society when she was approximately 1 1/2 to 2 years old. She was an abuse/starvation case and was at the shelter for five months. I adopted her and she has been with me for over a year. Mishka was extremely fearful of people and a gear biter.
I heard of Larry through a client of mine and then again his name was mentioned at a meeting of a Board, where I am President (Stevens-Swan Humane Society-SSHS) I checked on his qualifications and I called him for an evaluation. I would like to mention at this time that I am glad I did not believe comments about him online, remember that there are always two sides to every story.
I found him to be very understanding of Mishka's past and decided to retain his services. During the time period I was training with him, one of my other dogs had to be euthanized two days before our training session. When we showed up for training he sensed something was wrong with Mishka and asked what had happened. Larry did not charge for the appointment and he continued to do light training with her. He was extremely sympathetic and we had a conversation about animals feeling loss.
In trying to overcome Misha's fear aggression, I can not tell you how many times I called Larry to ask him a question on how to handle a situation. He always returned my call and explained fully why it happened and how to properly handle the situation next time to correct her behavior problems.
She (Mishka) is a much better dog today because of Larry's training method which was professional, kind but firm, and never rough to intimidate her into submission.
Please note that I never told him I was the Board President of SSHS until after many weeks into training because I did not want to influence his opinion of my interest in Mishka.
Also, recently Larry was instrumental in obtaining the most perfect German Shepard puppy, which is another story, just to tell you all how wonderful she is!
In closing, Larry truly is a person who knows his business and loves the dogs placed in his trust!
Thank you Larry,
Respectfully,
Victoria M. Celia, CPA
Marcy, NY
June 30, 2006
Gayle Pulizzi, Judy Gorea & Bentley
This is Bentley; he is a 1-year-old soft-coated Wheaton Terrier with a lot of energy.
He arrived at our home on the day our standard poodle of 14 years had passed away. Friends thought a puppy would help to heal the pain of our loss.
Bentley was 5 months old and came from a pet store. He lived in a crate for his entire life.  At his age he had not acquired any manners. He was not house trained and I did not have the mind set or patience, not to mention the time, for a puppy.
Bentley had the attention span of 0%. After a few months the situation was not getting any better. House training was out of control…attention span still 0%. We started to lose hope for this puppy mill pup. We had worked with other K9 obedience trainers in the area with our poodle. We made some progress but not to the level of my satisfaction.  My faith in K9 trainers was not very positive.  Bentley had one more chance or a new home was in his future.
Then a friend told us about Larry LeoGrande owner of K9 Obedience Training.  At that point we needed help so desperately we were willing to give K9 training another try. We signed up for private classes (an 8 week course) and after 2 weeks of training I saw a remarkable change in Bentley. Then I knew there was hope! Bentley started to realize who the boss was and we started to understand each other. As we began to earn respect for each other his behavior started to change.
The most important lesson Larry taught was to have patience with our pet and how to keep him calm. Larry's way of training is with a lot of love and affection.  He is very soft spoken and never raises his voice to the animals. He also has a very special bond with the dogs and their owners. Larry taught us that learning how to understand your pet is so important in training. He works with our dogs in a very gentle and loving environment, which makes for a wonderful pet in the end.
We finished the private classes and moved into a group class. Larry's connection with every dog is priceless. There are 8 dogs in each group class and to see all of the dogs in a down stay command at one time is pretty amazing to me. Every dog pays very close attention to their owners, just as they were taught. Bentley has started off leash training and is responding better than I would ever imagine.
We are so thankful we found Larry. I cannot thank you enough Larry for helping us to understand our dog and for him to understand us. We highly recommend Larry for K9 obedience training as he came highly recommended to us.
Bentley has become an amazing new best friend to us and he has finally figured out where the bathroom is! Larry has made us realize "the best things in life are right in front of our eyes".
Thank you Larry for the best dog a person could ever wish for.
Gayle Pulizzi & Judy Gorea.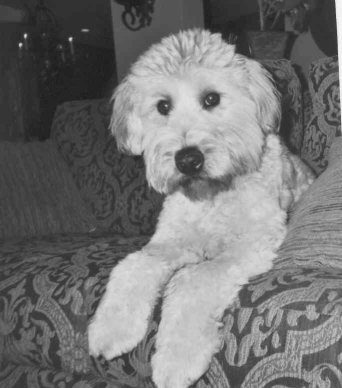 When I first brought my Collie Tosca home, I already knew Collies were smart, I just didn't know how smart. She was 9 weeks old when I took her home, and by 11 weeks I realized that, in spite of what the AKC or PetSmart said, four months was going to be too long to wait to work with Tosca. She was extremely alert and watchful, and she was just dying to please. I was fairly certain I needed to be trained properly before I could possibly obedience train Tosca. I connected with Larry LeoGrande at K9 Obedience Training on a recommendation and we began one-on-one lessons for Tosca and me.
Tosca fell in love with Larry almost instantly. She loved every one of our sessions and, best of all, I learned what I needed to know to teach Tosca the basics properly. I realized early that I had already been making mistakes in my own inexperienced attempts to train her. Thank heavens I got the advice of Larry before I had to undo my mistakes in the future. Larry taught me the appropriate ways to teach Tosca what she needed to know without any confusion on her part or mine. His technique is kind, firm, but loving and he has passed that method onto me. But the very best part of training has been watching Tosca grow into an obedient puppy in just 8 weeks. She loved practicing and beginning her training early was the best thing that happened to both of us. Larry not only made sure we both learned what we needed to learn, but he also helped us with other puppy issues such as crate training and housebreaking. He is also very knowledgeable about breeds and their particular idiosyncrasies, which in turn helped me to understand what to do when my Collie gets in one of her stubborn moods.
Overall, the greatest testimony I can give for K9 Obedience Training came sometime when we were halfway through our sessions. Tosca pulled her latch collar free during a romp and kept running. I stood there and said one sentence as calmly and cheerfully as I could as she bolted away, "Tosca. Come!". And she did. That alone made our training sessions with Larry worthwhile, for now I know I am able to keep my dog safe.
I also boarded Tosca with Larry for a day and I would not hesitate to bring her to him for boarding again. This was the first night she spent  away from me and her cats, and when I picked her up the next day, she was one very happy puppy, showing absolutely no signs of stress often associated with boarding a pet. In fact, I got the distinct feeling that she would have happily stayed at his facility another night with no problem.
There is no question that Larry has been a great experience for both Tosca and me. I plan to eventually certify Tosca as a Canine Good Citizen and I would not hesitate to sign up with Larry again in the future to help make that happen.
Tosca and I Thank You, Larry,
Cynthia S'Doia
7/17/06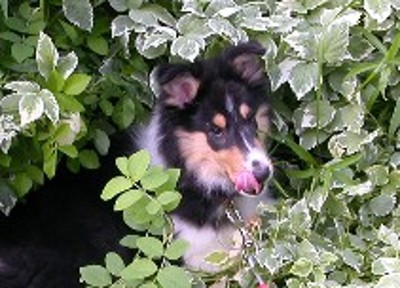 Dear Larry,
It wasn't long after we adopted our Boston terrier, Odie, that we soon realized that taking him for a walk was all but impossible. Although he weighs only 28 pounds he has the strength of a bull.  He would take me for a walk! God forbid a squirrel should cross our path as he dragged me from one tree to the next to mark his territory. Odie loves his family and people he knows, but strangers to him posed a threat and he would react aggressively towards them.
What I liked about your training is that you give insights into what the dog is thinking, why dogs behave the way they do. I have learned so much from your sessions, and my dog is now following my commands. Your Alpha Dog lessons helped me get across to Odie that I am the Alpha Daddy. I had no idea that doing something as simple as making him sit before I put his bowl of food down would make a difference in how Odie viewed me.
Odie has made great progress. He has become confident, less anxious and likes to practice commands every day. We still need to work on a few things but it has only been 2 months! Odie is much happier knowing that we are the pack leaders who protect, feed, and love him.
I recommend your training methods to everyone who has a dog as a companion. I have learned so much about dog behaviors and how to respond accordingly without yelling or intimidating. Thanks Larry, and please hurry with your new training videos!
Sincerely,
Richard Viti
June 8, 2006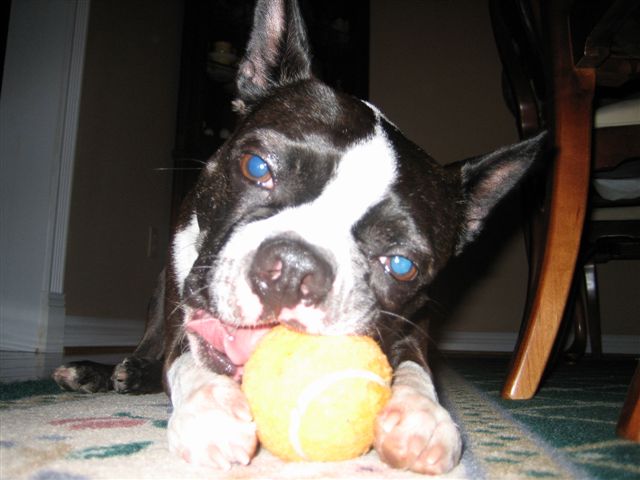 Dr. James E. Casper & Maggie
Our dog, Maggie, is very energetic and requires a lot of attention and discipline. With Larry's gentle and yet firm approach to obedience, we have a wonderful new family member. It is also with great trust and confidence that we can board our dog with Larry. When your pet is eager to stay for even extended periods of time, the owner's vacation is that much more enjoyable. Thank you Larry LeoGrande owner of K9 Obedience Training and Susan.
Dr. James E. Casper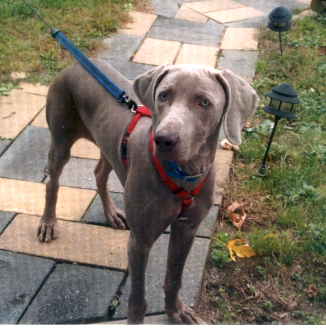 Ron, JoAnn & Max Koberstein
This is Max T. Redbone. He is a Red Doberman and our first dog. We knew a dog of his size would need training. Larry LeoGrande owner of K9 Obedience Training came highly recommended to us, so we called and enrolled in his Puppy Training class. Larry gave us well-needed information about training, nutrition, housebreaking and even recommended a great vet.
When Max reached training age, we took him to Larry for one-on-one obedience training. After our first class we quickly realized we needed the training more than Max! Larry's experience, knowledge and love for dogs were evident from our first lesson. He is very patient and is willing to go the extra mile so that you will have a wonderful loving and well-behaved pet. He was always available for questions or concerns through our new learning experience of being dog owners. He always answered my questions … even if I called him several times!
Larry boards Max for us. When we get close to the training facility, Max gets very excited so it's obvious that he enjoys his stay at K9 Obedience, which makes going away easier for us. We would recommend anyone to K9 Obedience our experience has been nothing but excellent! Larry has become a very valuable resource for us and we are truly grateful for that, thank you Larry.
Ron, JoAnn & Max Koberstein
Herkimer, NY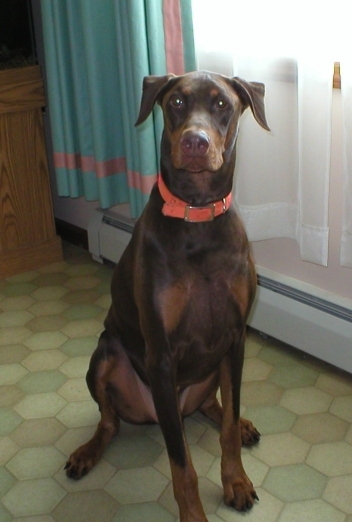 Lucy and I have participated in both individual and group classes with Larry LeoGrande owner of K9 Obedience Training. Lucy is my first dog, and one of the main benefits of "dog training" is that I was trained very well on how to work with her. In the training process, I gained a better sense of how to challenge Lucy and keep her well-behaved. I now have the tools to work with her intelligence and energy. I particularly like that Larry gives individualized attention to his clients and their needs. I found him to be incredibly knowledgeable about dog behavior and very helpful in working with Lucy and me.
I even called once from out of town to ask how to handle Lucy's sometime aggression towards my sister's dog, and from long distance, Larry talked me through the ways I might better control Lucy's protective tendencies.
I highly recommend Larry as an excellent dog- trainer!
Jenny Irons
Clinton, NY